GAY-TANTRA™ Training
Visit Berlin and experience with us our training module 'The Gay SuperOrgasm'. Be part of a multi-cultural and international group full of brave, interesting and open-minded men! Enjoy the men's community as a catalyser and grow beyond yourself! We would be lucky to welcome you here!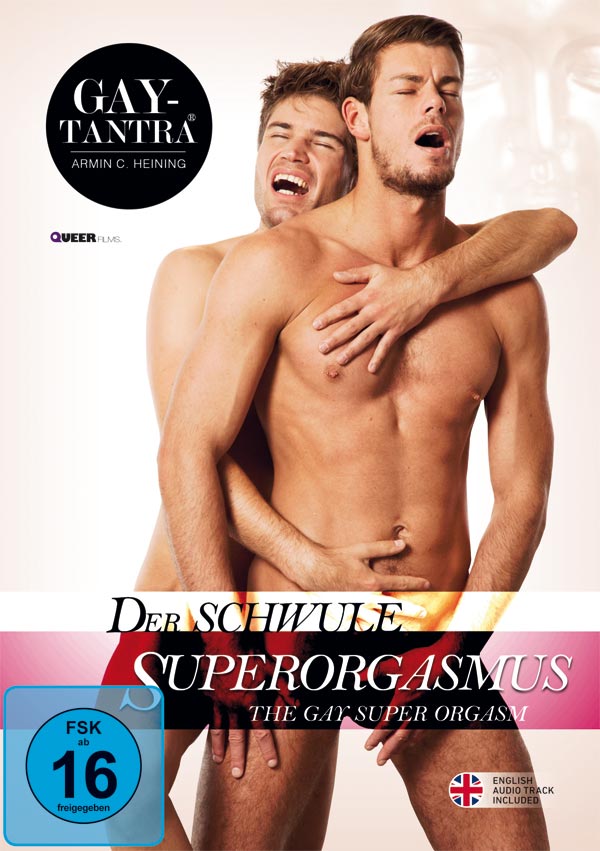 First-time participants will receive upon registration the GAY-TANTRA Film 'The Gay Super Orgasm' and several other bonus material as downloads for free… for inspiration and joyful preparation.
Topic
What makes your orgasm a Superorgasm? Your energy levels!
The higher your energy levels are when you start the sexual experience, the deeper your orgasmic adventure will be.
In this training we immerse ourselves in the genital multi-orgasmic stimulation.
We surrender to the mulit-orgasmic stimulation of anus and prostate.
New Year's Eve we will celebrate with a tantric ritual - a dynamic celebration including eroticism, sensual and sexual energy.
For gay super orgasm we stimulate both orgasmic trigger points and powerfully direct your sexual fire throughout the whole body.
How could the new year 2023 start better?
Course and Contents:
Through body awareness, relaxation, movement and playful encounter you will arrive, gain self confidence and develop a sense of ease within the other men.
Meditation in the morning in bodily expression and silence will prepare you for the daily topics.
Training (module 1) part 1
Wednesday, Dec 27, 2023 till Friday, Dec 29, 2023
Rituals make it possible for you to release your limits and blockages of false guilt, sense of shame and sense of indebtedness. This will enable you to indulge in unintentional pleasure and limitless joy.
You will learn the Multiple-Orgasmic Genital Stimulation and will experience on a first level multiple, complete-physical orgasms (Multiple Orgasmic Reactions - MORe 1; DVD: GAY-TANTRA - The Multiple, Orgasmic Genital Massage).
Training (module 1) part 2
Saturday, Dec 30, 2023 till Monday, 01.01.2024
Illustratively taught knowledge about the anatomy of the anus, its meaning in the energetic interplay of Yin and Yang, female and male aspects of the personality, will give you confidence to approach this pole of male sexuality.
By means of anal massage, relaxation and healing, you will be linked to the receiving and devotional part of your personality. The profound release of the pelvis will remove tensions from your perineum area, your anus and prostate gland, and will increase the quality of genital feelings. You dive into the Multiple-Orgasmic Anal- and Prostate-Stimulation (Multiple Orgasmic Reactions - MORe2; DVD: GAY-TANTRA - The Multiple, Orgasmic Anal- and Prostate-Massage).
A tantric ritual - a dynamic celebration including eroticism, sensual and sexual energy - will carry you on New Year's Eve into the new year.
Training (module 1) part 3
Monday, Jan 1, 2024 till Wednesday, Jan 3, 2024
You will learn more about the Chakra energy system and its meaning for transformation of sexual energy.
The so-called 'Fire-Breath-Orgasm' enables you to powerfully direct your energy through the entire body during orgasm.
Anal and genital stimulation of orgasmic trigger points support you to wake up your full sexual potential and to set it free. The abundance of sensibility of your pelvis will be expanded and your sexual feelings will be increased (Multi Orgasmic Reactions - MORe 3; DVD: GAY-TANTRA - The Gay Superorgasm).
Conversation, various massages, meditations and rituals will accompany and make the SuperOrgasm training perfect. They will give you a perspective of how to integrate GAY-TANTRA into your daily routine and how to make your new year more ecstatic.
Important notices:
This training is no substitution for psychotherapy, self-experience, personality training, or sexual or spiritual development! It is assumed that you as a participant possess a certain mental and physical durability, and you are open sexually and spiritually (natural mindset towards nudity, touch, also deep sexual touch, openness towards active and quiet meditation). If necessary, talk about your participation with Armin Heininng, the instructor, prior to your registration!
Participants:
The training is no psychotherapy or replacements for therapy. During ongoing therapy or spiritual mentoring please discuss the intended participation with your therapist or mentor. It will be understood that you take part in the whole training.