Ready for a Spritz of Liveliness? Let Us Meet for Coaching Online!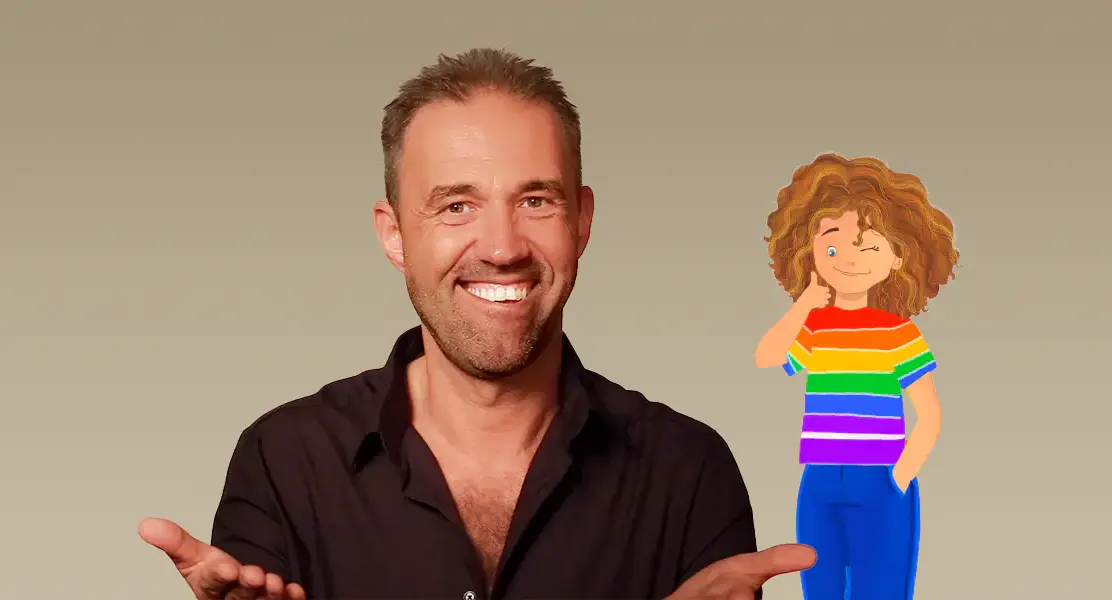 You can make it too!
Are you ready to stir up your life with more liveliness and joy? To dive deeper into the fascinating world of your own sexuality and experience love, intimacy and spirituality more intensely? To find a buddy you can trust or even the life partner of your dreams? To leave behind your unloved feelings of shame, insecurity and guilt? To send the endless thought loops in your head on vacation?
Or are you in a period where your sexuality seems like a bad comedy? Finding yourself unwittingly alone or become celibate? Do you feel exhausted, with your desire for pleasure almost non-existent? Has self-isolation caught up with you, now feeling monotony both in life, and in the bedroom? Or you are under the spell of "Sex on Chems" (sex under the influence of drugs) against your will or have slaved to a constricting, unhealthy fetish?
Good that you have landed here – because for all these topics and many more there is hope! Whether online or in person in Berlin, Bonn, Nuremberg or Vienna – my GAY-TANTRA Coaching can bring you a real change! Hey: It is also possible for you to not only bring a breath of life into your everyday life, but also to find out how to master these challenges of life with style. Ready for change?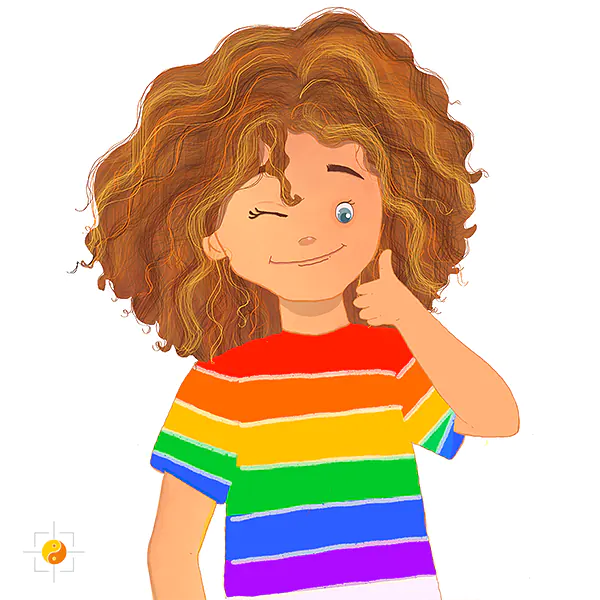 Let's get started together!
Write me an e-mail without any obligation, tell me a bit about yourself and what's going on in your life right now tell me some of the pain-points – I'm here to listen.
And you know what? The first step is the most exciting. As soon as your message lands in my inbox, our adventure begins. I'll send you a reply – and we'll exchange ideas.
If you really want to get started, we'll plan our first date. Zoom, Skype or however you like – you decide. You book the chosen date, pass a financial contribution as agreed before and our meeting is fixed.
And then? Then we take things in hand and design your path – step by step.
Your coach and companion
Hey, I'm Armin – your personal mentor on this exciting journey. With a life story that ranges from monk in a monastery to international trainer in the USA and Canada to independent entrepreneur in the course and massage area, I've experienced quite a bit. As if that wasn't enough, I also slipped into the roles of film director and book author.
And now? Now I'm standing here to share all that knowledge and experience with you. Together we will make your life more colorful, more fun and happier.
Don't worry, with me you are in the best hands. Your stories and thoughts will be met with respect, openness and confidentiality. So, what are you waiting for?
Come on and let's get started – I'm looking forward to meeting you!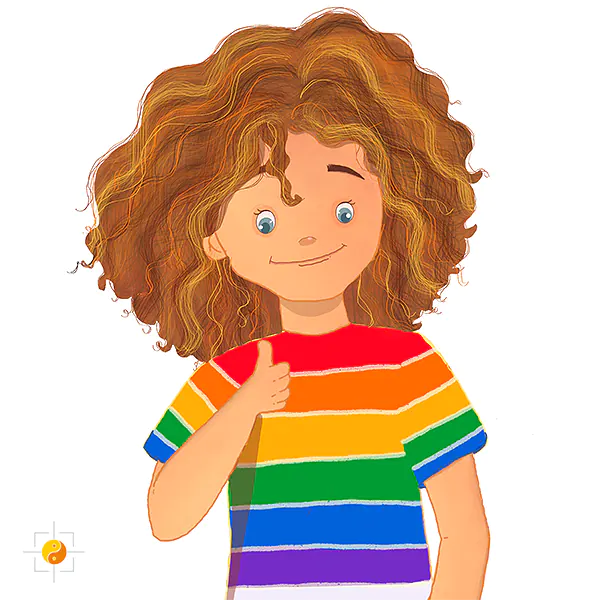 Pricelist
My coaching is based on trust and priced by arrangement:
Conversation / Consultation, 30 minutes: by arrangement
Conversation / Consultation, 60 minutes: by arrangement
Conversation / Consultation, 90 minutes: by arrangement
Contact Armin by e-mail to briefly describe your issues:
---
Benefit from my profound Gay-Tantra educational DVDs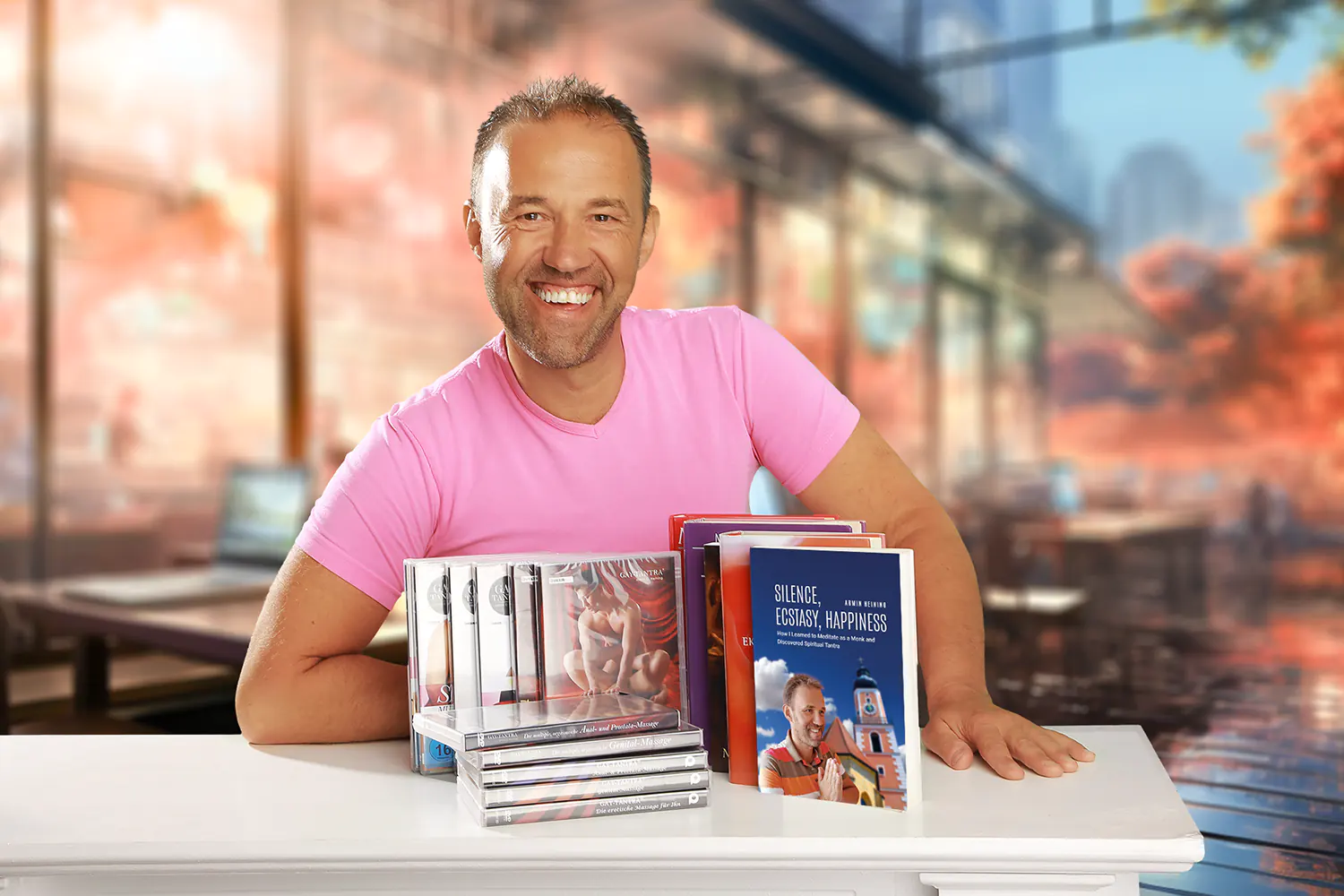 You would like to
bring more creativity and happiness into the intimate life with yourself?
experience refreshment in your togetherness with your partner, best buddies or friends?
learn tantric massage, kamasutra poses, sexual ecstasy?
In my GAY-TANTRA Webshop you find exiting knowledge films for free as well as my 11 profound educational DVDs to download.
Those films are a 'must have' for every man who loves tantra!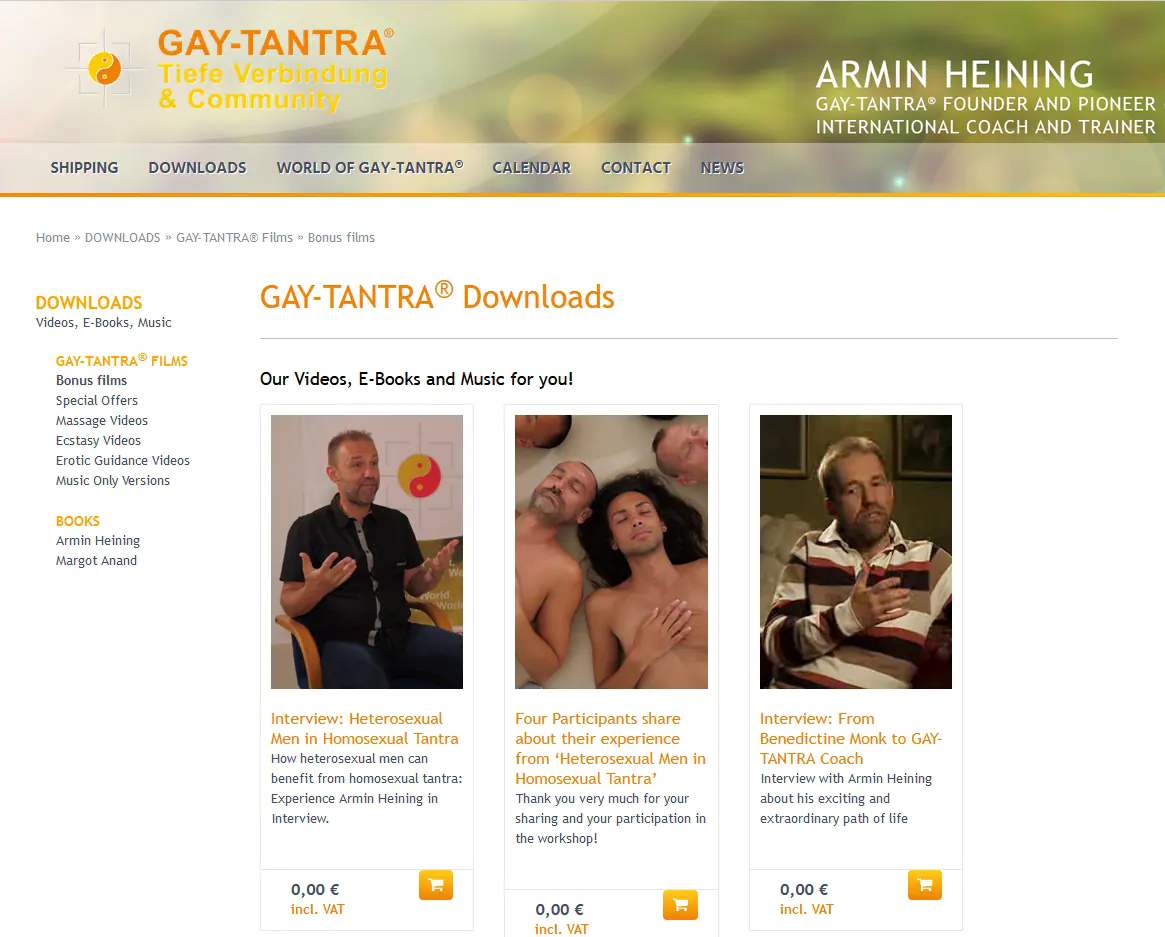 ---
Book Armin Heining: Silence, Ecstasy, Happiness
How I Learned to Meditate as a Monk and Discovered Spiritual Tantra
The Book
I'm a young man in provincial Old Bavaria, torn between my religious devotion and my journey of sexual discovery. When I receive my conscription notice, it seems like there's only one possible path for me.
Is the monastery the right choice for me? Can celibacy truly keep my passion in check?
During my theological studies, I find myself living next door to a popular brother, and my conscience faces an unexpected test. On a scorching summer day, a series of dramatic events unfolds, changing my life in ways I could never have foreseen.
Who helps me through the dark moments of my inner turmoil?
Who can truly understand me and guide me toward a path forward? Can the Catholic Church prevent my downfall?
Saint or squalor, order or orgasm, monastery or sexual ecstasy – my unsparing autobiography is a gripping account of my early life: The desperate struggle to live authentically between sexuality and spirituality, the hope of healing emotional pain, and the enlightening realization that even the most tortuous path follows a plan.
The Author
I was born in 1960, and I grew up in the town of Cham in Bavaria. After completing high school, I entered a Benedictine Monastery in Lower Bavaria and pursued my studies in Catholic theology in Würzburg. After years of deep inner conflict and undergoing therapeutic processes, I eventually left the abbey by mutual agreement.

Following my heart, I founded GAY-TANTRA in Nuremberg in 1992 and became the author and director of numerous bestselling educational films. Today, I live as an ›urban monk‹ in Berlin, and as an international coach, I travel the world sharing my philosophy:

»Meditation is the most intimate way to be with oneself, and tantric union is the most intimate way to be with another person.«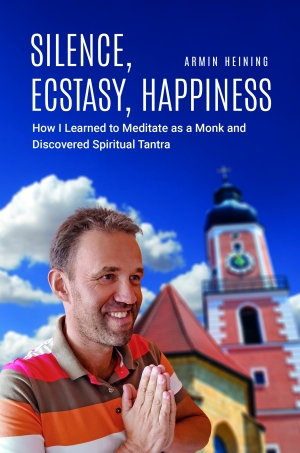 Hot off the Press:
Amazon, Publishing PROS, April 2023
283 pages, including 1 colour page;
E-Book: ISBN 9781915919670
Softcover: ISBN 9781916540224
Hardcover: ISBN 9781916540231
---
What GAY-TANTRA™ really makes so unique
Its Foundation
It is rooted in my remarkable life journey. I founded GAY-TANTRA™ in 1992 and have since lived my life in an extraordinary and transformative way, as detailed in the interview "From a Benedictine Monk to the GAY-TANTRA Guru", see interview).
My exceptional life experiences have granted me the remarkable ability to deeply understand various facets of human life. In particular, I excel in providing knowledgeable guidance, support, and direction, especially for gay men.
As Your Coach,
participants describe me as someone who is entirely open and authentic. My extensive expertise comes from both personal growth and working with thousands of gay men, as well as individuals who identify as bisexual or heterosexual. I use a diverse range of tools and techniques to facilitate lasting healing and overall well-being in body, mind, soul, and spirit. GAY-TANTRA harnesses some of the most powerful approaches, including the chakra system, gay yoga, personal development insights, and tantric energy circles, all aimed at fostering profound intimacy with oneself and one's partner.
How you learn
GAY-TANTRA™ combines the exercises and methods in a sound and integrated sequence which allows body, soul, mind and spirit to re-adjust, grow and regain health. I convey these techniques in theory and practice with all thoroughness: Modern visual teaching methods, clear general and individual instructions as well as opportunities to practice make GAY-TANTRA learning so unique.
Your benefit
GAY-TANTRA™ sustainably promotes your personal growth, as well as healing your sexual and vital powers and bringing you into harmony with society at large. Different methods help you to feel your body at a deeper level, likewise your sexuality, energies and emotions. You feel more proud and self-confident and gain long-lasting access to new levels of consciousness. Seminar participants are given the opportunity of accepting their same-sex love as something natural and living their daily lives in keeping with it.
Sexual Educational DVDs
My GAY-TANTRA path has a base of eleven specialized instruction and guidance DVDs (as of 05-2015): Erotic Gay Massage, Genital Gay Massage, Anal and Prostate Massage, Multiple Orgasmic Genital Gay Massage, Multiple Orgasmic Anal and Prostate Massage, Gay Kama Sutra, GAY-TANTRA™ Ritual and Sexual Ecstasy, Ultimate Gay Sex, The Gay SuperOrgasm, Strong Man (longer and harder erections, no premature ejaculation), The Art of Self-Ecstasy (multiple orgasms through masturbation). Nine of these previous mentioned titles are also available in French (as of 09-2023). Additionally, it is based on the profound and worldwide recognized books of Margot Anand Naslednikov, who was for nearly two decades the Tantra teacher my mentor.
Gay Massages, Workshops, Trainings
GAY-TANTRA job trainings are, when desired, certificated as continuing education courses for medical and psychology related professions. With these certifications, received after successfully passed examinations, you are allowed to promote your own profession.
GAY-TANTRA Workshops, introductory and intensive seminars take place frequently in Europe and between 2014 and 2023 also in North America at Awaken Studio Toronto with Phillip Coupal, and many other destinations like Berkeley/CA, Chicago/IL, Fort Lauderdale/FL, Los Angeles/CA, Montreal/QC, Palm Springs/CA or San Diego/CA. Organisational support is appreciated and welcome for future events in additional North America locations.
In 2009 I opened the GAY-TANTRA Oasis in Berlin, a place where a team of high-quality trained masseurs provide GAY-TANTRA massages for gay men in an exclusive atmosphere. A Tantra School for gay singles and couples, counselling, gay sex coaching, various rituals and much more are also on offer as well as special gay massages.
Begin your Journey of GAY-TANTRA™
With my, Armin Heining's teachings, developed in Germany and Europe since 1992, GAY-TANTRA brings new experiences and insights not available in North America. They will open up new horizons supporting your personal growth, making your life more joyful, shining, full of love, meaning and excitement. Don't miss this unique offering! Book your coaching and learn with films and other provided educational material.
GAY-TANTRA™ - Meaningful Community & Connection.
---
The Founder and Pioneer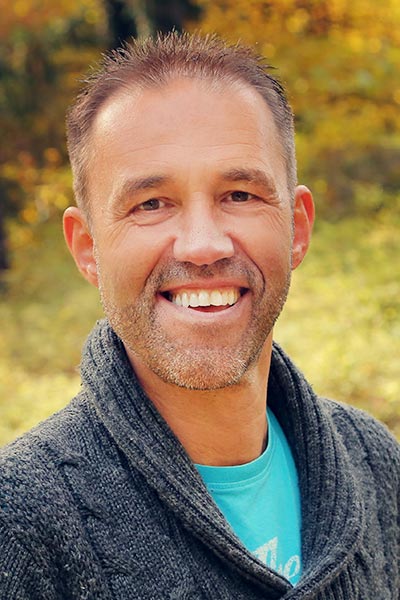 Armin Heining
was born in 1960 and graduated in theology, pedagogics and non-medical practitioner. He regards himself as being a monk and traveler on spiritual paths, a teacher and student all in one.
Monastic Time
As Benedictine monk (Brother Christoph) Armin came into contact with the contemplative path of Christian meditation in 1983 and learned this under the guidance of recognized teachers for some ten years. He transformed this practice later into the contemplative tradition of Tantra, called 'Mahamudra', and is still practicing and teaching this on a regular base to this day.
Tantra Training
After leaving the monastery, Armin turned to SkyDancing-Tantra®. This "neospiritual" path was developed in the eighties by Margot Anand Naslednikov as a modern approach to an old spiritual tradition. Armin became a licensed teacher and applied this path to the sphere of gay men and all men who love all kinds of men.
Career and Professional Scope
Armin has been teaching in Germany and abroad since 1992 and is today an internationally acclaimed coach and trainer. Most of his seminars are frequented by men who want to try something new and deepen their sexuality, or who seek to connect (homo)sexuality, love, compassion and forgiveness, intimacy and spirituality.
Armin offers seminars and trainings. He also gives tantric individual sessions (breathwork, bodywork and gay massages), therapeutic sessions of CranioSacral- and Visceral Therapy and relaxation in body-temperature water (aqua tantra).
Essence of Teachings
Armin says: 'Mahamudra leads to the most intimate way of being with yourself. And the tantric energy cycles lead to the most intimate way of being with your partner.'
Engagements
The seminar instructor is also executive on the board of Charity Sexuality & Spirituality in Germany and author of various articles (book: "HomoSexuality & Spirituality", Nuremberg 2005) and presentation director of eleven sexual eductional DVDs (as of 10-2015).
Life Motto
Armin's manner can be summed up as clear and decisive: Without wanting to convert anyone or put him under pressure, he knows how to act and speak out of his inner convictions. His life motto: Be connected with the inner depth, be playful and at ease in the here and now.