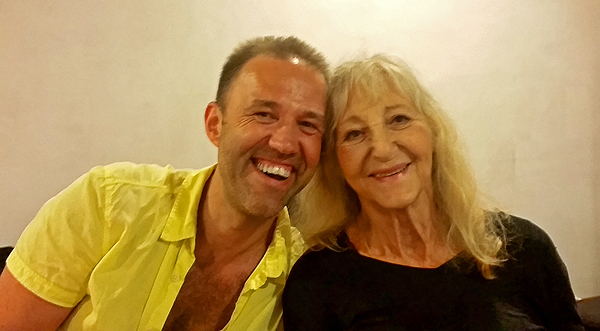 Armin Heining, Founder of GAY-TANTRA™ (in 1992) and Margot Anand, who brought Tantra into the West, met each other in 1990 for the very first time. None of them could imagine where the journey would lead them.
Today, in these pandamic times, they have already met in person some weeks ago and Armin is a happy SkyDancing Tantra trainer (certified in 1992) in love with his many friends and colleagues. Together with them he teaches SkyDancing Tantra in the Online Immersion Program.
Let yourself be supported by Margot Anand's SkyDancing Tantra Teachings like Armin has been inspired and encouraged all the time, in his professional as well as personal life.
Description
SkyDancing Tantra has pointed to the path of consciousness and ecstasy for thousands of people for over 30 years, which is beyond gender, race, sexual orientation and religion. And now, for the first time, Margot Anand, a true pioneer of Tantra in the West, and her certified teachers are offering an online course!

The pandemic is forcing us to come back to our inner selves and to find tools to remian in Joy and Love, despite the possible physical or psychic obstacles we may face.

From October 31 to November 22, 2020 we offer you an exceptional new project - SkyDancing Tanra Online Immersion - to help you discover or to continue exploring SkyDancing Tantra from the comfort of your own home!

23 days where you invite tantra into your home and into your daily life, wherever you live… to dive into your interiority, dare to show your vulnerability, open your heart and walk on the path of consciousness and ecstasy... It is an international event, with about sixty workshops given in two languages (French and English). It is open to everyone, from the Americas to Europe.

On weekdays, practices are reduced. Saturday is a full day, as in a residential workshop. And Sundays are essentially rest days. There are four full Saturdays where you will have the opportunity to have live sessions with Margot Anand as well as certified SkyDancing teachers, especially those who teach LET in Europe and the United States. We are deligthed to bring together the SkyDancing communities from different continents and institutes.

It is a unique opportunity to discover Tantra for newcomers, to maintain the practice for the experienced, and to gather around convivial events with guests and concerts. Unlike an online festival, you are not in a hyper-choice environment, but you are accompanied on a journey. Let yourself be guided!
Facilitators